RBS becomes first bank in the world to launch Facebook At Work
RBS is the company with the most employees to partner with Facebook At Work to date.
RBS has announced a ground-breaking partnership with Facebook that will bring the social networking service to employees across the bank. Facebook At Work, a business version of Facebook, will be available to 100,000 staff across the bank to encourage collaboration and allow employees to communicate faster and more efficiently. As well as using it on their desktop computers, employees will also be able to download it to their phones and tablets so that they can keep track of work when they are on the move.
Facebook At Work will look and feel similar to the Facebook that people use every day and employees will be able to use all of the same features, allowing them to post photos, create groups and events, update their work profiles, and send private messages to colleagues.
RBS has already piloted Facebook At Work and quickly found that staff were able to work much more efficiently together, answer customer questions faster, update other colleagues on their work in a much more engaging way and source a far wider range of ideas for on-going projects. Given how many people already use Facebook in their every day lives, it was picked up quickly by those on the pilot, with minimal training needed.
Facebook At Work will be completely separate from personal Facebook accounts, meaning information shared between RBS employees is only accessible to other colleagues within the bank. Information shared on the site will be safe, secure and confidential.
RBS began the pilot of Facebook At Work in July this year and it will be rolled out to 30,000 employees by end of March 2016. By the end of 2016 all employees will be using the tool.
Simon McNamara, RBS Chief Administrative Officer said:
"I've already been using Facebook At Work while we test it and it's been so useful – allowing me to exchange information and ideas quickly and securely with all my team on a wide range of projects. I'm excited about how bringing people together from all across the bank through Facebook At Work can help our employees do their job better – whether it's being able to find answers to customer queries much faster or helping us come up with bright new ideas."
Commenting, Sean Ryan, VP of Platform Partnerships from Facebook said:
"Facebook is a simple way for people to connect, share ideas and organise events. We hope Facebook At Work will help RBS, which employs 100,000 people, bring staff closer together and allow them to collaborate on projects much more effectively."
Related articles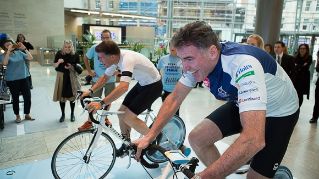 We're now NatWest Group
Come and visit us for all our latest news, insights and everything NatWest Group.