RBS take to the saddle for 500 mile Sport Relief cycle to Edinburgh
RBS staff set off from London this morning on the 500 mile cycle ride to Edinburgh to raise money for Sport Relief 2016.
With former England Rugby union World Cup winner Lewis Moody MBE sounding the starting horn, Ross McEwan, RBS CEO, and Alison Rose, CEO of Commercial and Private Banking, led the cyclists from Lamb Street – next to the RBS' main offices in London – on the first 100 miles of the trip this morning.
Stopping first at Eydon, the cyclists will be also be visiting Stafford, Birmingham, Manchester, Blackburn and Carlisle, before finishing on Friday 18 September at the RBS headquarters in Gogarburn, Edinburgh.
Already, close to £300,000 has been raised for Sport Relief and much more is hoped to be raised by the time the 750 cyclists finish their journey to Edinburgh.
The Cycle Challenge is being supported by Michael Vaughan, ex-England cricket captain; and former England Rugby union internationals Martin Corry MBE, Mark Cueto and Lewis Moody MBE.
The Challenge will be broken up into 100 mile stretches over five days, with some staff cycling the entire distance, and others cycling a 100 mile stage or 35 mile stage. In total, staff will cover 107,500 miles over the five day period.
CEO of Commercial and Private Banking Alison Rose commented:
"After weeks of training, I'm really excited to be starting the Cycle Challenge and leading our team on the first leg of our 500 mile trip to Edinburgh. Sport Relief is a great cause that we are proud to support and I've been encouraging my teams to get involved either by getting on their bikes or by sponsoring their colleagues to raise as much as we can."
Kevin Cahill, Chief Executive of Comic Relief added:
"It's brilliant that RBS has kicked off its fundraising for Sport Relief so early and with such enthusiasm. Sport Relief 2016, taking place next March, will be the biggest and best yet, with more ways than ever for people to take part, change lives and feel proud. We'll make sure that the cash raised helps people living unimaginably tough lives, both on your doorstep in the UK and across the world's poorest communities."
Related articles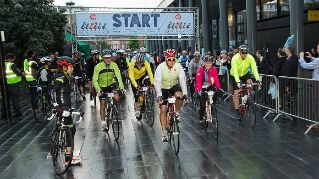 My RBS Cycle Challenge diary
Bernadette Bennett from RBS Supply Chain Services blogs about her journey as she cycles 500 miles across the UK for Sport Relief.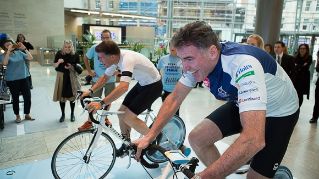 We're now NatWest Group
Come and visit us for all our latest news, insights and everything NatWest Group.