RBS finalists in UK Young Banker of the Year competition
Three RBS employees have reached the final round of the 2015 Deloitte UK Young Banker of the Year competition. Josh Greenway, Lee Johnston and Luke Ladbrooke will present their ideas to the judging panel and an audience of specially invited guests at the awards event in London on 10 September.
The annual competition, sponsored by Deloitte in association with the Chartered Banker Institute, asks contestants to develop an idea that could help shape the future of the financial services industry.

This year's finalists are:
Josh Greenway, Senior Lending Manager, Personal & Business Banking
Lee Johnston, Assistant Relationship Manager, Commercial & Private Banking
Luke Ladbrooke, Mortgage Adviser, Personal & Business Banking
Thomas Martin, Head of Contact Centre, Lloyds Banking Group
Glen McGowan, Head of the RBS Early Career team, says "Young Banker of the Year seeks to identify the future leaders of tomorrow's banking industry, and RBS has won the competition the last two years. It's a tremendous achievement for Josh, Lee and Luke to have got this far and shows their outstanding commitment to the bank. We wish all of them the best of luck for the final."

The ideas presented will range from new ways to support SME lending, to solutions in tackling fraud and alternatives to payday lenders.

The 2014 Young Banker of the Year, Jamie Broadbent, a Segment Manager for Business Banking in the PBB Product team, was amazed by the response to his win when dozens of RBS colleagues from all over the world got in touch to congratulate him.

Jamie says "Almost immediately after winning the award I was interviewed for and secured a promotion, and I'm certain that my participation in the competition played a part in that. The exposure and profile that being Young Banker of the Year has given me both internally and externally has been phenomenal – I'll treasure the experience for many years to come."
---
Since this article was published Josh Greenway, a Senior Lending Manager in Business Banking, was named UK Young Banker of the Year.
---
Related articles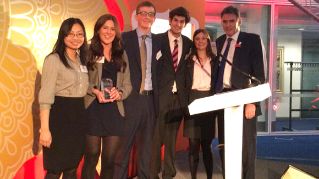 We're now NatWest Group
Come and visit us for all our latest news, insights and everything NatWest Group.