My RBS Cycle Challenge diary
Bernadette Bennett from RBS Supply Chain Services blogs about her journey as she cycles 500 miles across the UK for Sport Relief.
Before the challenge
My name is Bernadette and I work in Supply Chain Services at RBS. I've been with the bank for around 15 years now.
I've always cycled, but never done anything as challenging as this. I've done Pedal for Scotland (Glasgow to Edinburgh) and Edinburgh to St Andrews (charity cycle for Lepra) a few times but I fancied the idea of pushing myself and wanted to get involved in something bigger. So I decided to take part in the RBS Cycle Challenge for Sport Relief.
I like the idea that I could make a difference to people's lives and help alleviate poverty through raising money for Sport Relief. Also, I turned 50 in March and wanted to prove to myself, and show others, that if you set your mind to do something, you can do it.
I have found the training hard and very time consuming. My schedule has been leaving the house about 6.30am, when my teenage kids are all still in bed sleeping, and cycling for two hours before work. I've done a couple of long cycles at weekends - my longest being over 80 miles. It's hard juggling home life because although my kids are older they still need time and like having me around. And sacrifices have been made - no house work has been done for about two months but luckily no-one seems to notice that.
I'll be blogging here at the end of every day this week. Hopefully you'll stay with me through my journey.
Day one - Leaving London

So I arrived in London on Sunday night, tired after a long train journey down. I was very excited but anxious about the ride ahead. The kids didn't seem too bothered that I'm away but dinner is cooked for the next two days so that's probably why. I kept looking at fellow cyclists to see how many might be close to my age - didn't look like many but they're all nice and friendly so I'm excited for the start.
There was a real buzz at the starting line at Bishopsgate yesterday. It was really tough but can't believe day one is over already. I met some lovely people who managed to get me over the hills and kept me going through the heavy rain and hailstones. Got to say well done to the organisers for finding such a safe route out of London this morning.

Day two – Another day over
Another day over. It's so good to have people join us for parts of the cycle. Today we had Graham and Gary from our Customer Experience team cycling 100 miles with us. I wouldn't have got through today without their support so it's a shame they're only doing it one day. Lots of aches and pains and I found today harder than yesterday, even though I was told it was flatter! I keep thinking I'm nearly half way and I have survived so far.

Day three – 200 miles left!
I really struggled today but I cycled with some lovely people. We are in Blackburn now so only 200 miles left to go. There was a great welcome for us at the RBS offices in Manchester at Hardman Boulevard and we had a nice break there. I was hoping to meet up with my daughter Oonagh who is at Manchester university but didn't quite manage to.
RBS support staff have been great – big thanks to Aileen Laverty who was a great help in sorting us all out. Roll on tomorrow!

Day four - Climbs and scary descents
I don't know what to say about today's ride - the climbs and scary descents in the Lake District got the better of me. After getting 350 miles under my own steam without any assistance, I needed more support than I would have liked today. I knew this would be a physical challenge but I hadn't imagined it would be such an emotional week. People have been so drained at the end of every day but at the same time, so pleased to get so far. I myself have gone further than I ever thought I would. The support today has been great as always and doing something like this makes me realise how many really good, caring people I work with. I'm so looking forward to finishing tomorrow, getting into Edinburgh and seeing my husband and two of my kids who'll be there to cheer me in. It's 110 miles and I really hope I can do it.
Day five - Over the finish line
I did it! What a day! 111 miles at a reasonable pace by my standards. I was so determined that I was going to finish this cycle. So much effort has been put in by everyone and it's such an amazing event for such a good cause. Leaving Carlisle on Friday morning knowing it was my last day felt good and as I saw signs for Scotland then Edinburgh I knew that I could make it.
A few tears were shed as I crawled up that final hill into Biggar but Catherine and I kept each other going. Catherine only took up cycling in June and did all five days – she's amazing. It was so emotional cycling into Gogarburn and what an atmosphere. My husband Steven, and two of my kids Bonnie and Canice were there to greet me.
Thanks to everyone for getting me through this challenge. Your support and encouragement has meant so much to me can't wait to see my other two daughters who have come home this weekend to celebrate with their crazy Mum.
If you have been following my blog and would like to help me meet our target to raise money for sport relief you can donate here.
Related articles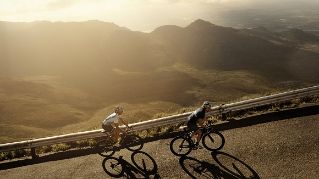 All for a great cause
Allan Wickham in RBS Shared Services explains how training for the RBS Cycle Challenge for Sport Relief can be gruelling but rewarding.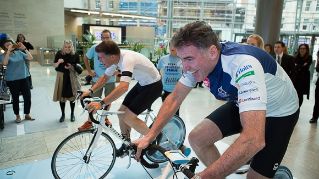 We're now NatWest Group
Come and visit us for all our latest news, insights and everything NatWest Group.