Jeremy Corbyn visits Entrepreneurial Spark hub in Brighton
The new leader of the Labour Party Jeremy Corbyn MP took time out from his party's annual Conference in Brighton to visit our Entrepreneurial Spark Hatchery in the city on Saturday.
Mr Corbyn met with around thirty entrepreneurs and NatWest staff to discuss how we are supporting small businesses and to find out more about our partnership with the world's largest free business accelerator Entrepreneurial Spark.
The Labour leader said: "I was greatly impressed by the calibre of young entrepreneurs I met at the Entrepreneurial Spark powered by NatWest hatchery in Brighton. Start-up businesses are the lifeblood of the economy adding more new jobs than any other category and it is right that we provide them with as much support as possible to create new opportunities. I look forward to following the progress of Entrepreneurial Spark powered by NatWest as it continues to launch free spaces across the UK."
NatWest, Royal Bank of Scotland and Ulster Bank are all supporting Entrepreneurial Spark hubs across the UK by providing free office space, free wi-fi, free business advice and access to our business networks.
The aim is to support around 7000 entrepreneurs over the next five years and improve our staff knowledge of how we can serve start-ups better. Over the next two years we will be setting up hubs across the UK including in our Gogarburn HQ in Edinburgh. Businesses who have been through Entrepreneurial Spark have survival rates double that of those who have not.
Related articles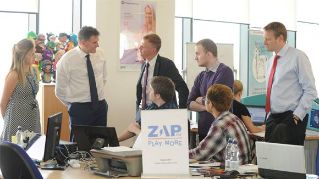 Guest blog: Making games for MoneySense
Cameron McMillan, of Zapcoder, discusses the collaboration with RBS to create games for the new improved MoneySense programme and what Entrepreneurial Spark has meant for them.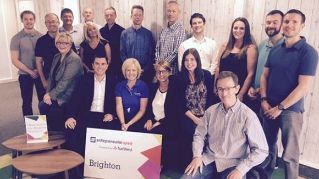 We're now NatWest Group
Come and visit us for all our latest news, insights and everything NatWest Group.