All for a great cause
Allan Wickham in RBS Shared Services explains how training for the RBS Cycle Challenge for Sport Relief can be gruelling but rewarding.
A few years ago, I could have been described as unfit and lazy, I was constantly tired and had started to suffer from some quite dramatic mood swings. Luckily, it turned out to be something quite simple to rectify. After cutting out gluten from my diet, my mood improved and I felt less fatigued.
This has meant that ever since, I've been able to do more of the things that I want to do. I've had the energy to try dragon boating, complete a tough mudder, help a person with spinal cord injury climb Snowdon, and walk a significant proportion of the Thames path. These have all been a lot of fun for me but have also given me the opportunity to give something back to the community by raising money for charities that are important to me.
My fitness has definitely improved over the last few years and I saw the RBS Cycle Challenge as a real chance to push myself and see just how far I've come. I am not an experienced cyclist, before signing up to this I commuted to work once or twice a week so rode a maximum of 20 miles per week - and even then only in fair weather, with the wind blowing on my back, downhill. Now, I've signed up for a challenge that means I will cycle 510 miles with a total climb of 7,853m (25,765 feet); higher than Mt. Kilimanjaro and Mt. Snowdon on top of each other.
With many of my colleagues I'm taking part to raise money for Sport Relief. Sport Relief has helped more than 11,500,000 people over the last two years giving support to some of the most deprived communities in the world. Interestingly, 50% of the money raised is spent in the UK and 50% internationally, so it deserves a tough challenge. However, you can't do a tough challenge without preparation, which brings me on to my training.
I have gone from zero to hero in my training programme managing only 75 miles in my first week (4 weeks ago), I am now at 200 miles per week on top of a working week. A typical week now contains between 3 and 7 hours of cycling per day, a couple of gym sessions for leg strength, and as many calories as it is physically possible for me to consume. I am constantly hungry and eating six meals per day (3 main meals and 3 snack meals). All of this takes time, and it does have an impact on family life. In order to restore some balance and spend some time with me, my wife came on a forty mile cycle with me on Saturday in the Surrey Hills. As the name suggests it is very hilly and she has since decided that she doesn't want to spend that much time with me after all.
It is going to be tough and like nothing I have ever done before. I expect some pain and tears, but it is for a great cause.
Related articles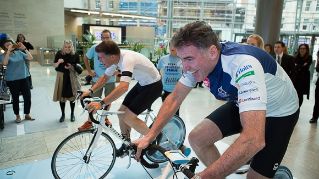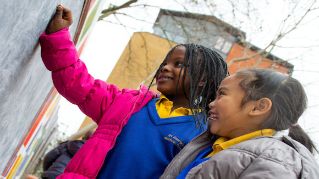 Second round opens for Skills and Opportunities Fund applicants
Following the creation of the new £2.5m Skills & Opportunities Fund in May, which attracted over 1,000 applicants and saw 42 winners secure over £1m in funding in the first round, we are delighted to announce that applications are now open for a second round of funding.
We're now NatWest Group
Come and visit us for all our latest news, insights and everything NatWest Group.