The North East top the table as the fastest growing Government Office Region in England and Wales in Q1. Activity in the region expanded by 0.5% compared with Q4 2014, comparing favourably with the UK's 0.4%. Sectors that shone include financial services, energy supply and chemical manufacturing. All outpaced the UK average. Particular hot spots include Darlington and Tyneside, whose economies grew annually by 3.3% and 2.8% respectively.

A step-up in the pace of economic expansion saw the region's unemployment rate fall sharply. It has fallen by 2.5 percentage points over the last year, to 7.5%. Above the national average yes, but a significant achievement nonetheless. Sunderland deserves a medal as it's unemployment rate has dropped from 13.7% in 2013 to .8.3% in 2014, a fall of 5.4 percentage points. Only Leicester has seen a steeper drop.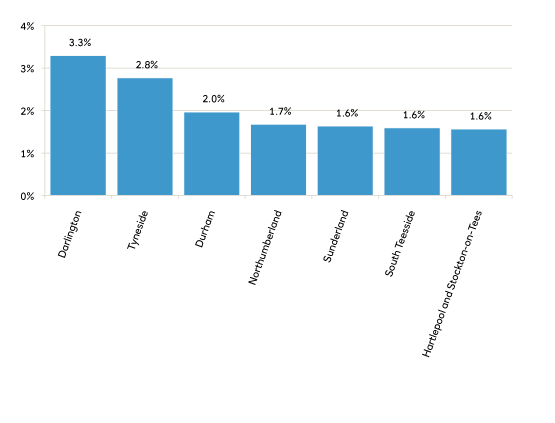 View from the region

It is great news to see the North East leading the way for Q1 growth, and especially good news to see a further fall in the region's unemployment rate.
Economic expansion continues with the strong focus on exports bringing new revenues and jobs to the region. We expect a further boost from the recently launched transatlantic flights from Newcastle International Airport which will not only bring people to the area but will serve as another channel for cargo export. Generally we are seeing confidence continue to grow with results inevitably to follow.
Jason Heywood, Regional Director