RBS Rainbow Network at London Pride
Pride in London was celebrated on the 27th June 2015 and the RBS LGBT Network, Rainbow, was again part of London's largest parade. RBS Inclusion Manager Marc Reace-Coles explains how.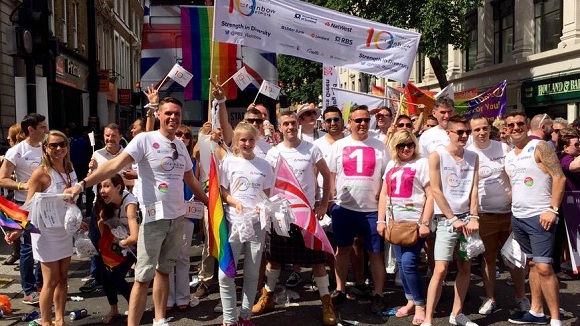 This year, Pride in London was just phenomenal. There really isn't any other word for it. Over 30,000 people took part in the parade and tens of thousands of people crammed into London's streets to show their support for the LGBT+ community. This was one of six Prides RBS is participating in across the UK this year and was particularly poignant given same sex marriage had been voted through the US Supreme Court the previous day.

For the second year in a row, the network used the NatWest Ambitions bus to provide a focal point for our supporters on the day. The RBS Rainbow Network created a small committee of volunteers who liaised with the Pride in London organisers to make sure we knew our place in the parade and oversee the health and safety of both the participants and spectators. Lots of volunteer hours are used to provide a great and enjoyable day for everyone who comes. This year we had over 50 RBS colleagues and friends join the parade. A highlight this year was the attendance of our CEO, Ross McEwan, who wanted to show his personal support for our LGBT+ colleagues and customers.

Pride isn't the only work that the Rainbow Network and RBS inclusion have been involved in this year. From a customer perspective, RBS have introduced the Mx honorific and we've made it easier for customers to amend their gender on bank records. We've introduced a policy in the UK to support colleagues going through gender transition. This includes a guide for anyone who wants to understand more about the journey their transgender colleagues may be going through.

The Rainbow Network is celebrating their 10th anniversary of supporting RBS to be a more vibrant and inclusive organisation.
We're now NatWest Group
Come and visit us for all our latest news, insights and everything NatWest Group.