Economics Weekly - The last waltz
The waltz: where dancers hold each other close, spinning in a line of ever-increasing circular intensity yet always ending up in the same place. It can seem the same with Greece's debt negotiations. But three meetings today could determine whether this is Greece's last waltz. If a deal of sorts is reached, which is likely, the dance goes on.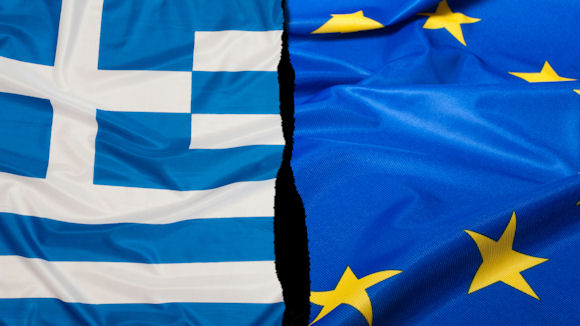 Bigger problems
Eurozone annual inflation rose in May to 0.3%. In less strained times it would be a job well done for the European Central Bank (ECB). Its bond-buying programme, among other factors, has helped swiftly free the single-currency area from the hold of deflation. But these aren't normal times and the ECB has far bigger issues to contend with. Number one is doing all that is politically feasible to keep the Greek economy functioning and Greece in the eurozone.
You're hired
Although the unemployment rate remained at 5.5% in the three months to April, the UK labour market is in decent shape. For one thing there are jobs aplenty, full-time employee ones too, which are up by 450k since April 2014. And it pays to work as average earnings growth picked up yet again, to 2.7%y/y. Given inflation is at best negligible it's another welcome rise in workers' spending power.
Still low
UK offical inflation rose in May, by a mere 0.1%y/y. That reverses the 0.1% fall in the year to April. Food, petrol and utility bills remain lower than this time last year, helping cash spread that little but further. Inflation will probably begin to rise later in the year but for now it remains low. So called 'core inflation', which strips out volatile items like food and energy, rose just 0.9%y/y, less than half the decade average.
No action
Inflation might be a rounding error away from zero but the Bank of England's Monetary Policy Committee all agreed that no change in policy was needed in June. On their analysis inflation would be 1.5% higher were it not for the falling prices of food, energy and imported goods. They expect these effects to be transitory and for inflation to swing upwards at the end of the year. But it's far from straightforward. The MPC expected consumers to spend more of the windfall from lower inflation, but at the moment they're not doing quite as much as thought. That suggests the Bank is getting a little less confident about the UK's growth for the rest of this year.
A blip
Low inflation must be catching, as there was a significant slowing of house price growth in April. Average prices grew by 5.5%y/y, down from 9.6%y/y in April. London's house price growth fell a long way, to 4.3%y/y, the first time it's been slower than the UK average since 2009. Price growth should pick up again as price expectations have been rising acorss the UK for a few months now, nowhere more so than in London.
I'll take both please
Low inflation and higher earnings make a happy combo for consumers and it's currenetly good news for retailers too. Retail sales grew a robust 4.4% in volume terms in May. With average growth this year of close to 5%, it's been the strongest period for retail sales since 2004. Department stores and clothing stores are both seeing strong sales but it's household goods that are flying off the shelves. Sales are up 12%y/y. Our love of shopping endureth forever.
Not much to see
US prices increased by 0.4%m/m in May, the biggest jump in more than two years. Gasoline prices were the main culprit, up a whopping 10%. Excluding volatile items like food and energy, core inflation was just 0.1%m/m. Like in the UK, as the effects of last year's oil price slide slip out of the numbers the headline rate will rise. But there's no sign of underlying inflationary pressure. That's one reason the Fed stayed its hand again.
Not yet
Fifteen of the Fed's seventeen policy makers think US interest rates should rise this year. Just when is less clear. Growth has picked up since a poor first quarter and jobs are being created at a decent rate. But inflation is dormant, there's still slack in the job market and a series of disappointing data releases show that this isn't an economy running at full tilt. Markets reckon the Fed will hike just before Christmas but it's a finely-balanced call, with early 2016 quite possible.
IP waiting for you
US economic data continue to confuse as industrial production fell again in May, down 0.2%m/m, after falling by 0.5% in April. Manufacturing output matched the decline in overall production, down 0.2%m/m in May. However, we may well discover that the disappointing manufacturing figures more reflect a stronger dollar and weaker global conditions rather than a weak domestic economy. Indeed, the production of motor vehicles and parts, which tend to reflect US consumer demand, rose by 1.7% in May, the third consecutive monthly rise.
Disclaimer
This material is published by The Royal Bank of Scotland plc ("RBS"), for information purposes only and should not be regarded as providing any specific advice. Recipients should make their own independent evaluation of this information and no action should be taken, solely relying on it. This material should not be reproduced or disclosed without our consent. It is not intended for distribution in any jurisdiction in which this would be prohibited. Whilst this information is believed to be reliable, it has not been independently verified by RBS and RBS makes no representation or warranty (express or implied) of any kind, as regards the accuracy or completeness of this information, nor does it accept any responsibility or liability for any loss or damage arising in any way from any use made of or reliance placed on, this information. Unless otherwise stated, any views, forecasts, or estimates are solely those of the RBS Economics Department, as of this date and are subject to change without notice.
We're now NatWest Group
Come and visit us for all our latest news, insights and everything NatWest Group.