Economics weekly - Definitely, maybe...
A respectable 0.6% expansion in output in the final quarter of the year currently places the UK in top spot among advanced nations for 2014 economic performance. Yet poor productivity growth continues to cast doubt about its sustainability. In the US, weak job growth added to concerns that the pace of expansion is slowing.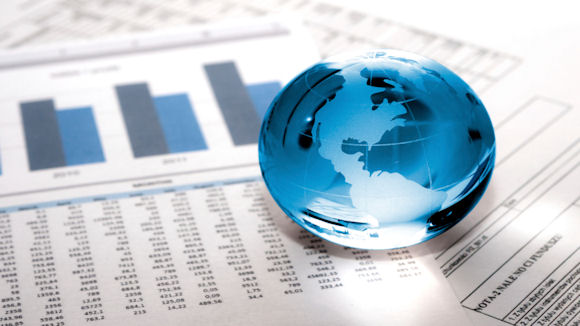 That was the year that was
A stronger performance than first thought during the last three months of 2014 meant the UK economy grew by a spritely 2.8%y/y last year. That's one of the fastest rates of growth among the developed nations. Households played their part, spending 2.5% more in 2014 than the year before. They paid mainly through rising salaries but partly by reducing savings. And the UK story is more than just a consumer one as business investment rose by 7.5%.

Spoiler alert

A persistent spoiler is the UK's current account deficit – our financial position relative to the rest of the world. Almost ever present, our deficit widened to 5.5% of GDP in 2014, the biggest since records began in 1948. The problem isn't so much poor trade performance.
At 2% of GDP our trade deficit is lower than in the years leading up to the crisis. Rather it rests with our foreign investments, or more precisely the low returns we currently earn on them. In contrast, an expanding UK economy means we are generating relatively decent returns for foreign investors who own assets here.

Running out of road
The UK's strong growth prompted an equally strong pace of job creation. That's good news for workers, but also extends an enduring puzzle about the UK's economic recovery; namely the absence of productivity growth. GDP is now 3.4% above its pre-crisis peak but output per hour is still 1.7% below its old level.
And rather than recent growth propelling productivity upwards, for the last two years it has slipped sideways. Weak productivity is probably delaying the moment when the Bank of England first raises interest rates. But unless we see a turnaround in our productivity soon, 2014 may prove to be the high-watermark for growth.

Resurrection
The UK's makers continued their encouraging start to the year in March. The Purchasing Managers' Index of manufactures reached an 8-month high of 54.4 (a reading above 50 signals expansion). It's the domestic economy that's driving growth, particularly the consumer goods sector. Prices are continuing to fall too, both the costs to manufacturers and the prices they charge. And there's better news on exports, with new export orders reaching its highest reading since August. The recent return to life for the Eurozone's economy may just be beginning to support the UK's export sector.

With moderation.
With 61,000 new mortgage approvals, February saw the third consecutive monthly increase, adding to the in-tray of conflicting messages on the state of the UK housing market. Last week the Nationwide house price index reported the cost of a typical house rose by 0.1% in March. That's not much. But then that's not necessarily a bad thing. Like prices, mortgage approvals and hence housing transactions should continue to increase, albeit moderately.

Two directions
The direction of travel for the Eurozone's inflation and unemployment rates has been welcome. While the unemployment rate edged down again in February, to 11.3% (hiding a huge difference between countries mind), deflation eased to just -0.1%y/y in March, up from -0.3% in February. That's similar to the UK inflation rate. The fact that two economies performing so differently have near identical inflation suggests an external force acting on both. Mainly that's weak global price pressures, most famously but not exclusively oil. Exclude energy and Eurozone inflation is 0.6%y/y.

Blip or warning?
The US added 126,000 jobs in March, leaving unemployment at 5.5%. That was a sharply-reduced rate of job creation compared with the preceding 12 months when the economy had added almost 270,000 per month. While the usual warning applies – don't rely too much on a single piece of data – weak job growth adds to surprisingly poor retail sales and industrial production data. The US equivalents of the Purchasing Managers' Index have also suggested growth is slowing. It's too soon to sound a warning bell but these data will only encourage the Fed to keep rates low for longer.

Soft landing?
US house price inflation slowed to 4.5%y/y in January. A year ago it was running at 10.5%. Prices fell by 0.1% m/m, the fifth consecutive monthly decline. This gentle slowing of price rises is the thing of central bankers' dreams. And there are signs that house price inflation could be approaching a floor. The proportion of borrowers well behind on their mortgage payments is at its lowest rate since 2008, meaning fewer forced house sales. Applications for mortgages to buy a house – rather than remortgaging – were up 8%y/y last week.

We're now NatWest Group
Come and visit us for all our latest news, insights and everything NatWest Group.