Sir Howard Davies appointed to succeed Philip Hampton as RBS Chairman
Following its announcement on 25 September 2014 that Philip Hampton would leave The Royal Bank of Scotland Group plc ("RBS") during 2015, RBS is pleased to announce that Howard Davies will succeed him as Chairman.
Philip Hampton will step down as Director and Chairman of RBS with effect from 31 August 2015. Howard Davies will join the Board at the end of June and assume the role of Chairman from 1 September 2015.
Howard has an extraordinary breadth of experience across the UK financial services sector, having held the roles of Chairman of the Financial Services Authority, Deputy Governor of the Bank of England, Director General of the Confederation of British Industry and CEO of the Audit Commission.
Howard is currently Chairman of Phoenix Group, a non-executive Director of Prudential plc, and a non-executive Director of Morgan Stanley. He will step down from Phoenix and Morgan Stanley. He will complete his work as Chairman of the UK Airports Commission before assuming the role of RBS Chairman and will retain his position at Prudential and as Professor of Practice at Sciences Po, Paris.
Commenting on the appointment, Philip Hampton, Chairman of RBS, said: "The Board is pleased that Howard will succeed me as Chairman and we welcome him to RBS. We have made considerable progress to create a safer and stronger bank but there is still work to be done. Howard is very well equipped to lead RBS through the next stage of its transformation. His experience and expertise will be invaluable and I wish him every success in the future."
Howard Davies said:
"I am delighted to be joining the Board and look forward to leading the bank through the next phase of its journey. RBS occupies a unique position and I will take over the reins from Philip at an exciting time and am grateful to him for the stewardship he has provided to RBS. Ross McEwan has set out a very clear strategy to create the number one bank in the UK for trust, customer service and advocacy. I look forward to working closely with him in order to achieve that ambition."
In accordance with section 430(2B) of the Companies Act 2006, RBS confirms that Philip Hampton will receive payment of fees for service whilst a Director but no other remuneration payment or payment for loss of office will be made in connection with his departure.
There are no other matters requiring disclosure under section 9.6.13 of the Listing Rules.
2015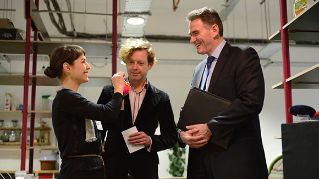 A year of change at RBS
A year on from the start of the new plan for RBS we asked key members of the bank's executive committee to blog on the challenges they have faced and progress they have made since then.
We're now NatWest Group
Come and visit us for all our latest news, insights and everything NatWest Group.