The North East economy grew by an estimated 0.3%q/q in Q4 2014, a considerably slower rate than the previous quarter's 0.8%q/q. The main reason for this was a weaker performance in manufacturing and construction, while the region relies less on the faster growing professional services sector. Darlington was the one local area to perform better than the UK average over the last year, growing by an estimated 3.4%y/y, with Tyneside growing by 2.9%y/y. But in better news, the unemployment rate fell in almost all local areas in the year to Q3 2014.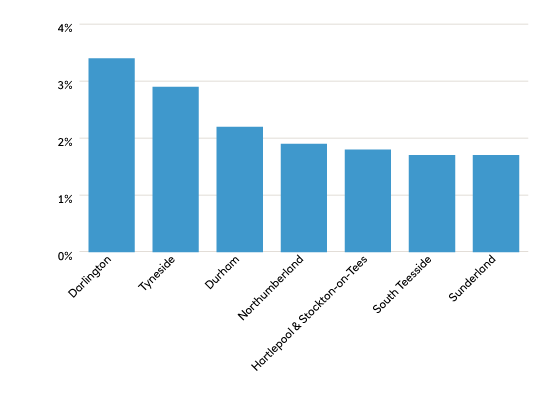 View from the region
Lending is definitely on an upward swing across the board and customers are now prepared to invest. Stagnation appears to be behind us and has been replaced with thoughtful decisiveness. The consistently positive news about growth is giving people confidence to invest and explore new areas of financing support, for instance private equity is showing interest in the leisure sector.
The North East is home to Nissan and a number of car component manufacturers who benefit from a boost to the autos sector. The European Referendum, due in 2017, is starting to be a topic of conversation among the CBI and Chambers of Commerce because of the impact it could potentially have on the export trade. Customers have learned a lot from the downturn and are applying the same discipline to their financing decisions now as they did then but today they are making them happen now instead of stalling."
Jason Heywood, Regional Director