Commercial & Private Banking shows commitment to UK businesses
In our third blog of our 'one year on' series Alison Rose, CEO Commercial & Private Banking updates on her experience of 2014.
The year has gone incredibly quickly. When I started as CEO of Commercial & Private Banking in February 2014, I thought I had been given the best job and I still believe that.

One of our four key themes this year has been supporting UK businesses and entrepreneurs. Nowhere is this clearer than in our most recent partnership with Entrepreneurial Spark. Working in partnership with them, we recently opened the first of eight business accelerator hubs, right in the heart of Birmingham, in one of our buildings. It's going to be home to 80 entrepreneurs for the next 18 months and it plays a part in my ambition for us to become the 'go to bank' for entrepreneurs.

Last year, we also declared ourselves 'open for business' by proactively telling our customers that we were ready and willing to support their growth ambitions. We issued almost 18,000 'statements of appetite' worth around £8 billion and we remain keen to talk about how we can help our commercial and corporate customers.

It's important for the UK economy that we help stimulate growth. I hope that by creating long-term, sustainable relationships with customers and partnering with other organisations such as peer-to-peer lenders, we're playing our part in this.

Other highlights of the past year include fresh initiatives that show we are putting customers first I'm particularly proud that our focus on simplifying our processes is making it easier for people to do business with us. We have removed over 100 products from sale so our offer is clearer, we have cut the time it takes to open an account by two thirds, improved Bankline password resetting and given our customer-facing staff greater freedom to make helpful, on the spot decisions.

Coutts, our private bank, has also continued to build on its leading position in the UK with innovations that put the customer first. It now offers a video conferencing service and has plans to introduce fingerprint ID access to online accounts later this year. These are great steps forward, but we are determined to do more and I expect to see further improvements throughout the year.

A big priority for me is to earn the trust of our customers. I want the bank to build long-lasting relationships with them, relationships that will still be here in 10 or 20 years' time – long after I'm gone.

We are working hard to earn that trust by acknowledging that we have work to do, by investing in our systems and our staff and, most of all, by putting our customers at the heart of every decision we make.


Related articles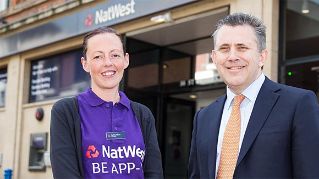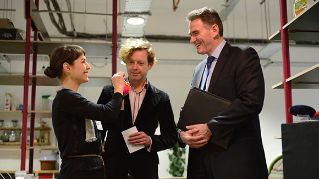 A year of change at RBS
A year on from the start of the new plan for RBS we asked key members of the bank's executive committee to blog on the challenges they have faced and progress they have made since then.
We're now NatWest Group
Come and visit us for all our latest news, insights and everything NatWest Group.