Managing your money in 2015
Jennifer Coleman, Consumer and Community Affairs Manager at RBS, explains why 2015 is the year to focus on your finances and discusses the actions RBS and NatWest have taken to help get things in order.
New Year has been and gone. Resolutions set, maybe already broken. And while the tradition is to aim to lose lbs, many of us will be striving to save £s in 2015.
Why? Because research from the Money Advice Service expects that one in three of us will start 2015 with Christmas debts. And while Black Friday was a phenomenal success for retailers, credit card spending rose sharply, which saw 2014 beat figures not seen since 2007.
High borrowing figures were not just limited to credit cards in 2014. The FCA has taken steps to cap the interest rates of pay day lenders. RBS and NatWest was the first major bank to blow the whistle on payday loan brokers' sharp practice of hiding behind unclear terms and conditions, and protected customers by blocking over £1m in hidden fees.
The debt charity StepChange also announced this month that 21 million households in Britain don't have a household budget, and a further 6 million have a budget they can't keep to. They believe having savings of £1000 per household could help half a million people prevent debt.
The Money Advice Trust Chief Executive Joanna Elson offers advice to those who anticipate financial trouble once interest rates begin to rise:
"Draw up a budget, speak to your lender and if you find yourself struggling to repay seek free independent advice as early as possible". RBS Chief Executive Ross McEwan recognises that over half of our RBS and NatWest mortgage customers have never experienced a base rate increase with us, and more than 1.5 million borrowers who bought their house after 2007 have never experienced a rate increase. As a result we are currently sponsoring a major piece of research to better understand the implications of interest rate rises on consumers.
RBS and NatWest have long supported the debt and money advice sector. Last year we donated over £10m to charities and organisations that provide the public with independent support and advice. We also have working relationships with the sector and ensure that any customer who presents with debt is offered support and advice from these organisations.
Next week we'll feature an article on RBS.com which covers our top five financial health tips for 2015.
Related articles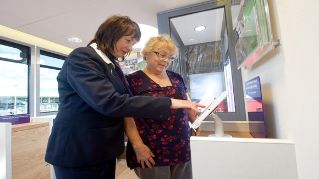 We're now NatWest Group
Come and visit us for all our latest news, insights and everything NatWest Group.