Changes to our basic fee-free bank account
Les Matheson, CEO of Personal and Business Banking for RBS and NatWest responds to the announcement from Her Majesty's Treasury on new basic fee-free bank accounts
In response to the announcement from Her Majesty's Treasury (HMT) on new basic fee-free bank accounts Les Matheson, CEO of Personal and Business Banking for RBS and NatWest has made the following statement:
"We are determined to earn back the trust of our customers and the public. We are continuing to make banking easier for all of our customers, particularly those with stretched finances who work hard to make ends meet. We are pleased to play our part in ensuring that everyone can have access to simple banking services like a current account, suited to their individual needs.
We will launch our new Basic Bank Account proposition to customers next year. We've already taken an important step in making these accounts work better for customers by lifting the ATM restriction for all customers in November 2014."
Changes to our Basic Bank Account proposition will also apply to customers of Ulster Bank in Northern Ireland.
We announced in June 2014 that we would re-open access to the LINK ATM network to all of our Basic Bank Account customers by the end of the year.
We completed this move in November 2014, benefiting our one million customers with Basic Bank Accounts who were not previously able to access the network, following a decision made in 2011. This was an important step in our work to re-earn the trust of our customers and the communities we operate in.
The changes we're making to our Basic Bank Account services are driven by a desire to make our customers lives easier by giving them the right product for them. Our goal is to secure the long-term future of basic services for those in need and to ensure that every customer has a current account which is appropriate for their individual needs.
Latest news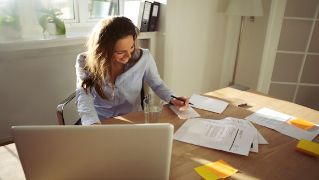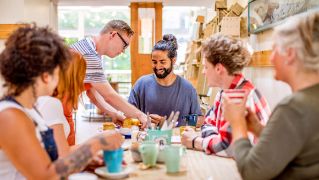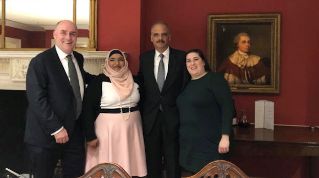 RBS Multicultural Network meets Eric Holder, 82nd US Attorney General
Simon McNamara, RBS Chief Administrative Officer and Executive Sponsor of the RBS Multicultural Network, recently hosted an event in discussion with Eric Holder, the first black US Attorney General. They discussed career, ethnicity, diversity and even a little bit of politics. At the event, Eric Holder shared his wisdom and experience with attendees from the RBS Executive committee and RBS Multicultural Network. Simon McNamara blogs about his experience meeting Eric, a BAME role model, and why diversity is so important to RBS.