Branch WIFI proves a hit with customers
The free wireless internet (WIFI) service in NatWest and RBS branches has already been used over one million times by customers since it started in May.
NatWest and RBS branches are and will continue to be, an important place for customers. Having WIFI in branches means the bank is able to support those customers who may not have used the bank's digital or mobile services before, to get started. It is also an opportunity to show them the basics and answer any questions they have.
With WIFI in place, a team of branch-based digital experts is now being formed so that RBS and NatWest can do even more to help customers in future.

Here are two examples of how RBS and NatWest branch staff are using it to help meet customers' needs:

Lachlan Archibald from the Dunfermline branch helped an anxious NatWest customer who had lost her card and needed money urgently. Unable to give her cash over the counter, Lachlan helped her download the NatWest mobile app using WIFI. He then showed her how to use Get Cash to get money there and then from the ATM. The customer was relieved to be able to carry on with her day.

When a customer came into the Royal Bank of Scotland Forfar branch asking about digital banking, Iain Mitchell invited them to a quiet corner of the branch with their phone, iPad and card reader and used the WIFI to demonstrate our online services. The customer was delighted Iain took the time to show him how things worked, and left with the confidence to do it himself in future
This is just one of the ways RBS and NatWest are using technology to meet customers' needs. Others include:
Mobile banking apps - around one in four customers are now using them and the 'Pay your contact' app has won an industry's award
Online statements - over half of customers are now using them
Online customer communities for NatWest and RBS - encouraging customers to share their experiences, help each other and share their views with the bank
Social media presence – RBS and NatWest help over 1,300 customers every week through Facebook and Twitter.
Related articles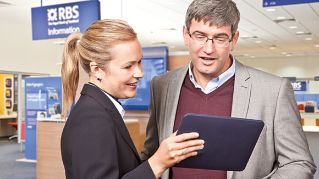 Surf the net while you fix your finances
By the end of the summer of 2014, all RBS and NatWest customers will be able to access free WiFi while they bank in branch, as part of continued investment in the bank's branch network.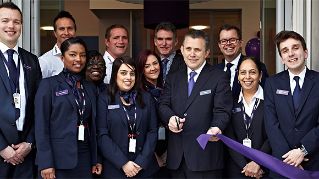 New NatWest branch showcases latest customer banking technology
Yesterday saw the launch of a brand new NatWest branch in London. The launch was attended by the Chief Executive of RBS, Ross McEwan and new head of Personal and Business Banking, Les Matheson, as well as NatWest ambassadors Michael Vaughan and Phil Vickery.
We're now NatWest Group
Come and visit us for all our latest news, insights and everything NatWest Group.