One in five RBS and NatWest customers prefer digital banking
One in five customers only bank through an electronic device such as a tablet or mobile phone, a 43% increase on 2013 figures, according to data from RBS and NatWest.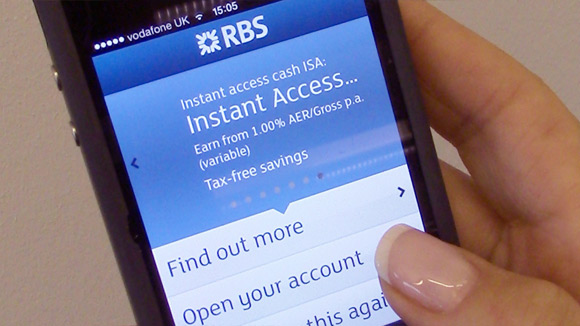 The number of online and mobile transactions has now surpassed those taking place in branches and at ATMs, and by the end of this year, RBS and NatWest expect 4 million customers to be using their mobile apps.
Hi-tech Harrogate
A regional breakdown of the banks' data reveals that Harrogate ranks as the town with the highest proportion (16.2%) of RBS and NatWest customers using only electronic devices to do their banking. See the infographic Digital Banking Hotspots (PDF 971KB).
Reading is in second place, with 16% of customers using only electronic devices to carry out their banking and St Albans is in third place at 15.7%. Aberdeen is the top location for digital-only banking in Scotland at 13.4%, while Newport tops the tables in Wales at 11.8%.
Nearly one in 10 customers only use the RBS and NatWest mobile banking app to carry out banking transactions. Walsall has the highest number of customers using only their mobile app (8.8%), closely followed by Sheffield at 8.7% and Teesside at 8.6%.
Customer choice
The data shows that age is no barrier when it comes to using the latest and easiest ways to access banking services. While 24.1% of RBS and NatWest customers using only digital devices to bank are 26 – 35 year olds, almost 20% are over 56 years old.
Head of Digital for RBS and NatWest, Chris Popple, said: "The use of mobile and online technology has grown significantly over the last couple of years.
"Half of our 15 million customers (8.2 million) are now using online and mobile banking. Our busiest branch in 2014 is the 7.01 from Reading to Paddington as over 167,000 of our customers use the Mobile Banking app between 7am and 8am on their commute to work every day. Over 2.1 million customers use our mobile app every week.
"We now offer more ways to bank with us than ever before and our mobile banking app gives customers another choice in how they bank with us - where and when it is convenient for them."
Easy access
RBS and NatWest are making it easier for customers to access online banking by installing in-branch technology, including 134 new or additional iPads and 609 digital zones with free Wi-Fi. The banks are also investing £600,000 in five new mobile vans with new layouts and technology to serve customers in more communities around the UK.
BBA findings
The RBS and NatWest data supports a report published by the British Bankers Association (BBA), which says that mobile banking usage has doubled over the last year.
Launching the report, The way we bank now, the BBA said that millions of customers were harnessing easy-to-use technology that allows them to bank wherever and whenever they pleased, saving them time and money.
Anthony Browne, Chief Executive of the BBA, said the branch would remain important, especially for "big moments" in life such as arranging a mortgage. "But the day-to-day use of branches is falling and part of that is because there is a groundswell of people who now find that banking on the move is fast, easy and convenient," he added.
We're now NatWest Group
Come and visit us for all our latest news, insights and everything NatWest Group.