Investment positions private ambulance company for expansion
A medical care and private ambulance company expects its turnover to double in the next 18 months following a seven figure lending deal from NatWest, RBS and Lombard.
Benfleet-based Caring for You PTS is hoping to exceed the £8 million turnover mark and is primed to expand its existing overseas business, especially in Europe, after securing a finance package through NatWest and RBS Invoice Finance. A further investment through Lombard Vehicle Solutions will enable Caring for You to add three new ambulances to its fleet of 95 vehicles.
Founded in 1995 by former senior ambulance officers and clinicians, Caring for You operates nationally providing a private ambulance service, including organ transplant and high dependency vehicles, and has contracts with several hospitals including Royal Brompton, Royal London and Harefield.
The company, which has a staff headcount of 150, also provides paramedic cover for a wide range of events and clients ranging from hardcore obstacle challenge Tough Mudder to the Dutch Olympic team, and at a variety of venues including Alexandra Palace. A sister company, Nationwide Emergency Education, also offers clinical skills training and emergency response driving skills to healthcare professionals.
John Donovan, director of Caring for You, said: "We're proud of the reputation we've established over the years for excellent service, compassionate care and reliability. I am extremely fortunate to be surrounded by a highly skilled and passionate team who make this all possible.
"I am absolutely delighted to be extending our services and growing the business, ultimately to meet our clients' needs."
He praised the understanding and professionalism of the NatWest staff working with his company. "We have a tremendous relationship manager in Andy Cook. We involve him at an early stage with everything we do," he said.
"Andy and the team at NatWest have been very professional and have a complete understanding of our business – they really get what we're trying to achieve."
Related articles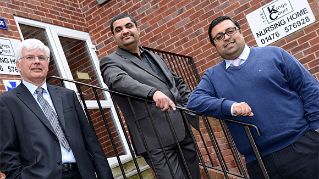 We're now NatWest Group
Come and visit us for all our latest news, insights and everything NatWest Group.