Ukraine and Russia - little direct economic impact on the UK
RBS Economics take a look at the trade, investment and financing links between the UK and Russia and Ukraine.
Direct economic links between the UK, and Russia and Ukraine are modest, which means the direct impacts on the UK economy of the turmoil in the region will be modest. However, an escalation of the dispute which involved tit-for-tat sanctions could have a larger impact.
Trade
In 2012, the UK exported almost £500bn of goods and services. It sold less than £8bn to Russia and less than £1bn to Ukraine. Those sales represented 1.7% of UK exports. Exports to the two countries were less than to Sweden.
Total imports to the UK in 2012 were worth just under £530bn. Of these, £9bn came from Russia and less than £1bn from Ukraine. Imports from the two countries were worth 1.9% of UK imports.
Overall, the UK ran a combined trade deficit with Russia and Ukraine of over £1bn, 4% of the UK's total 2012 deficit.
Investment
UK residents and firms owned assets overseas worth £10,880bn in 2011. These included stakes in businesses – outward investment by British firms – and physical property. Assets in Russia were £46bn, less than 0.5% of the total. Assets held in Ukraine were £2bn. UK assets in the two countries were similar to the value of the assets owned in Norway and China. Assets in the UK owned by overseas residents and firms were worth £10,870bn in 2011. Russian residents and firms owned £27bn of UK assets, 0.2% of the total. Assets held by Ukraine residents and firms were worth £6bn. The UK's net asset position – the value of UK-owned assets in Russia and Ukraine minus assets owned here by their residents and firms – was £16bn. This surplus is one important reason why the UK earned income from the two countries worth more than £4.7bn in 2012. That more than offset the trade deficit, leaving the UK with a combined current account surplus with Russia and Ukraine worth over £3bn.
Financing
The UK banking sector has very limited direct exposure to either country. At the end of Q3 2013, UK banks were owed less than £12bn by residents of Russia and Ukraine, 0.5% of total overseas lending by UK banks.
Indirect links
While the direct links between the UK and the two countries are modest, the UK economy could be affected indirectly by a prolonged dispute. The main channels through which that could happen are:
Trade: if the dispute continues for some time, it could have an adverse effect on trade and investment in Europe. Slower growth there, as the UK has learned in recent years, can damage UK growth.
Commodities: oil and wheat prices have risen in the last few days. Increases like these have the same effect as a tax rise: you can't avoid them in the short-term and, thus, they constrain spending power and growth.
Political risk: market volatility has also risen. Political risk is a factor that affects investment decisions. The longer the dispute lasts, the greater will be the effect on investment flows. In particular, the application of tit-for-tat sanctions could
have a greater impact on the UK and wider advanced economies.
Ukraine crisis no major threat to euro area
The Ukraine crisis is not currently a major threat to Euro area says Harvinder Sian, Co-Head of European Economics. Read the full article on RBS Insight.
Latest news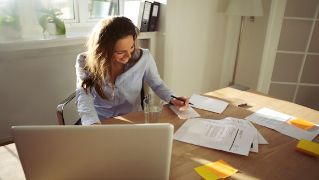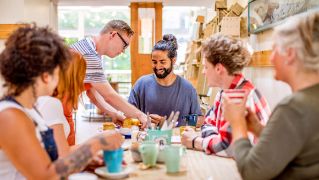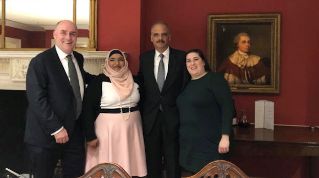 RBS Multicultural Network meets Eric Holder, 82nd US Attorney General
Simon McNamara, RBS Chief Administrative Officer and Executive Sponsor of the RBS Multicultural Network, recently hosted an event in discussion with Eric Holder, the first black US Attorney General. They discussed career, ethnicity, diversity and even a little bit of politics. At the event, Eric Holder shared his wisdom and experience with attendees from the RBS Executive committee and RBS Multicultural Network. Simon McNamara blogs about his experience meeting Eric, a BAME role model, and why diversity is so important to RBS.