"We are at a turning point in Europe" says RBS' Gallo
The European Central Bank is setting out how it will stress test some 130 banks in the Eurozone. For the first time banks will be judged by the same rules. That is a major step forward in improving transparency and building confidence in Europe's battered banking sector says Alberto Gallo, RBS Head of European Macro Credit Research.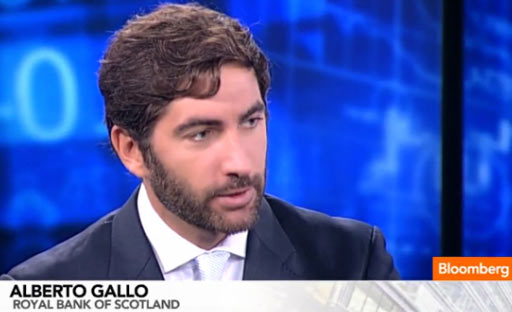 The stress tests, together with brighter economic outlook and greater certainty on the US debt ceiling and from the German elections are all reasons why credit markets are more likely to 'melt-up' than melt-down. Watch and listen to his views in some of his latest interviews with CNBC and Bloomberg.
Bloomberg Radio - Bloomberg Surveillance Podcast
Alberto Gallo, head of European macro credit research at Royal Bank of Scotland Group Plc, says "we are at a turning point" in Europe, as there is a potential for capital to "come back". Gallo talks with Bloomberg's Tom Keene and Michael McKee on Bloomberg Radio's "Bloomberg Surveillance."
Europe melting up until year-end: The European Central Bank will announce new details on its banking union project. Alberto Gallo of RBS says this will boost transparency across European banks.
We're now NatWest Group
Come and visit us for all our latest news, insights and everything NatWest Group.