Hanna wins Young Banker of the Year award
RBS employee Hanna McCloskey has won the Chartered Banker Institute's Young Banker of the Year 2013 award. The competition, which aims to showcase tomorrow's leaders in UK banking, asked contestants to focus on innovation and develop an idea that could help shape the future of UK financial services.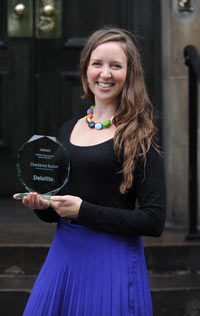 McCloskey, who specialises in infrastructure finance for RBS Secured Debt Markets, secured the prestigious award for her idea on how to communicate and reframe the concept of gender diversity in the workplace.
She also won the Fairbairn Trophy, awarded by audience vote to the finalist they consider to have displayed the best presentation skills.
McCloskey said: "To be involved in this process was fantastic and I have learnt a great deal from it. It has given me the opportunity to work with some senior managers in RBS, develop my presentation skills and put forward an idea I'm very passionate about. To be selected the winner is a great achievement, but receiving the buy-in from people in RBS to help support and implement my idea is even more important."
Two further RBS employees - Laura Wilkinson from Group Capital Management and Michal Pechta from Credit Risk - reached the competition finals in Edinburgh, presenting their proposals to the judging panel and an audience of 130 people comprising representatives from banks and other financial institutions.
McCloskey joined RBS in 2009, after completing an internship with the bank in 2008. She had previously worked for the United Nations and studied International Relations at the Johns Hopkins University School of Advanced International Studies in Bologna and Washington DC.
The Chartered Banker Institute is the oldest banking institute in the world, developing and promoting professional standards for bankers and providing world class professional qualifications for the financial services industry in the UK and overseas.
We're now NatWest Group
Come and visit us for all our latest news, insights and everything NatWest Group.