Joachim von Schorlemer to succeed Ingrid Hengster
Joachim von Schorlemer succeeds Ingrid Hengster as RBS Hub Head Germany, Austria, Switzerland and Country Executive Germany and Austria
RBS has announced today that Joachim von Schorlemer has been appointed as Hub Head for the region Germany, Austria and Switzerland, and as Country Head for Germany and Austria, with effect from 15th September 2013.
Joachim will take up the role of Ingrid Hengster who earlier this year was voted onto the board of KfW as of 1st April 2014.
Ingrid Hengster has led the franchise in Germany, Austria, Switzerland for the last eight years. Under her management, the bank has continued to deliver stand-out solutions for its clients, while rebuilding and strengthening its foundations.
Ensuring our continued success, Joachim and Ingrid will work closely in the coming weeks to ensure a smooth transition and hand-over of responsibilities.
Joachim joins RBS from BNP Paribas, where he acted as CEO for Germany with direct responsibility for the business with all client segments in Germany.
Before this, he worked for Credit Suisse and Deutsche Bank. Joachim commented on his new role: "I am looking forward to working with an excellent team to continue to build our market position."
Alison Rose Head of International Banking, EMEA and Head of EMEA M&IB said, "Germany is a key franchise for RBS and I am delighted that Joachim has come on board. With his extensive experience in banking, his strategic competence as well as his excellent reputation in the market I am sure that he will ensure our continuity as a strong relationship bank in Germany and the region and our drive to serve and deepen our client relationships across the international network."
And commenting on Ingrid Hengster's departure: "Ingrid has steered the bank through difficult times and ensured that we achieved client satisfaction and very convincing results with our clients in the region despite the challenges to the banking industry as a whole and for RBS. I thank her for her outstanding contribution."
Latest news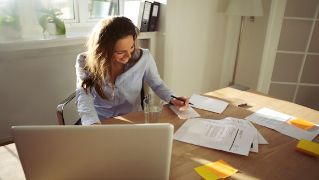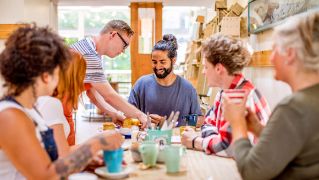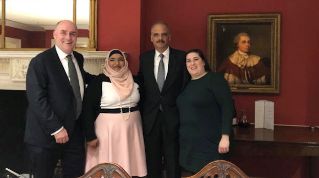 RBS Multicultural Network meets Eric Holder, 82nd US Attorney General
Simon McNamara, RBS Chief Administrative Officer and Executive Sponsor of the RBS Multicultural Network, recently hosted an event in discussion with Eric Holder, the first black US Attorney General. They discussed career, ethnicity, diversity and even a little bit of politics. At the event, Eric Holder shared his wisdom and experience with attendees from the RBS Executive committee and RBS Multicultural Network. Simon McNamara blogs about his experience meeting Eric, a BAME role model, and why diversity is so important to RBS.