Ulster Bank offers financial support to GAA clubs
Ulster Bank is inviting applications from local Gaelic Athletic Association clubs for up to Euros25,000 in financial support for the third year running.
GAA Force is an initiative which supports local GAA clubs across the Republic of Ireland and Northern Ireland by offering them the chance to win support packages to refurbish and upgrade their facilities.
More than 500 clubs from across the island of Ireland entered the programme last year, with Erin's Own GAA Club in Waterford winning a support package worth €25,000.
Four additional clubs, one from each province (Clooney Quin GAA Club in Clare, Two Mile House GAA Club in Kildare, Eire Óg GAA Club in Roscommon and St. Ergnat's GAC Moneyglass in Antrim), also won support packages worth €5,000 each.
Ulster Bank, Official Sponsor of the GAA Football All-Ireland Senior Championship, is now calling on clubs to register for this year's competition.
€25,000 top prize
One lucky GAA club will receive the top prize of a support package worth €25,000 and four runners-up (one from each province) will receive a support package worth €5,000 each. The winning clubs will then use the money to carry out improvements to their GAA facilities during the planned 2013 Ulster Bank GAA Force Winning Weekends.
Seán Óg ÓhAilpin, former hurling international and Business Development Manager for Ulster Bank, said: "Ulster Bank GAA Force received a record number of entries in 2012 and we are hoping to break that record again, this year.
"Supporting grassroots GAA, clubs and communities is extremely important to Ulster Bank and we are overwhelmed with the success of the initiative, since its inception. Ulster Bank GAA Force is about highlighting the important role that GAA clubs play within their communities. The initiative is also about getting the community together to get behind their local club and show their support for their clubs sides."
Latest news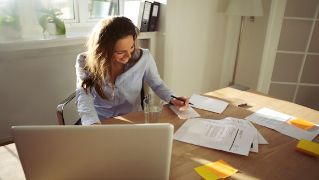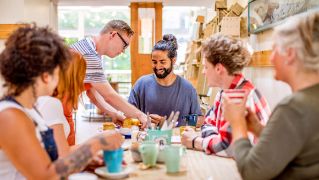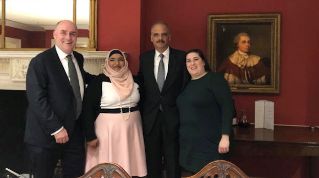 RBS Multicultural Network meets Eric Holder, 82nd US Attorney General
Simon McNamara, RBS Chief Administrative Officer and Executive Sponsor of the RBS Multicultural Network, recently hosted an event in discussion with Eric Holder, the first black US Attorney General. They discussed career, ethnicity, diversity and even a little bit of politics. At the event, Eric Holder shared his wisdom and experience with attendees from the RBS Executive committee and RBS Multicultural Network. Simon McNamara blogs about his experience meeting Eric, a BAME role model, and why diversity is so important to RBS.