RBS helps derelict castle transform into luxury venue
Bank funds final stage of renovation into boutique-style guest house and wedding venue.
RBS has helped to fund the renovation of an abandoned Scottish castle to create a romantic destination for holidaymakers and couples to be.
Duchray Castle in Aberfoyle, Scotland, opens in May following extensive renovation by owners Oliver and Frances Bigwood. The final stages of the renovation were completed through funding provided by RBS.
The castle, parts of which were built more than 500 years ago and which is reputed to have given shelter to Scottish folk hero Rob Roy, had been left empty for seven years when the Bigwoods bought it in 2010.
The property had been repossessed by the previous owner's bank and had been badly neglected, but Frances said: "We recognised that Duchray provided the perfect location for those seeking a fairy tale Scottish castle wedding in a romantic setting, as well as a retreat for those looking for a holiday in a secluded location close to nature."
The Bigwoods were close to completing the project when they approached RBS for a five figure amount which would enable them to finish the renovation in time for their first wedding which is booked for May.
Allan MacDonald, Relationship Manager at RBS, says "Oliver and Frances had done a very thorough job with the renovation by the time RBS got involved, and we were happy to help them finish their project. The results of their labours is that they have a beautiful venue of which they can be proud and which we feel confident will be very successful. With plans in place to develop other buildings on the estate we believe that this will become a much sought-after boutique-style guest house and wedding venue."
Duchray Castle has four double/twin rooms, and three reception rooms that can host wedding parties of 40-50 people with the option of taking over the whole castle for the event. The venue will be exhibiting at the Loch Lomond Wedding Exhibition on 23rd and 24th March.
Latest news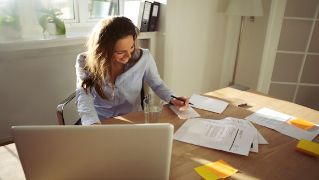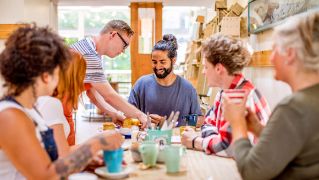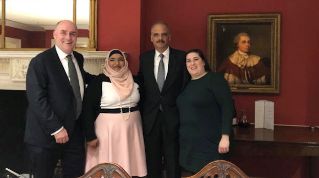 RBS Multicultural Network meets Eric Holder, 82nd US Attorney General
Simon McNamara, RBS Chief Administrative Officer and Executive Sponsor of the RBS Multicultural Network, recently hosted an event in discussion with Eric Holder, the first black US Attorney General. They discussed career, ethnicity, diversity and even a little bit of politics. At the event, Eric Holder shared his wisdom and experience with attendees from the RBS Executive committee and RBS Multicultural Network. Simon McNamara blogs about his experience meeting Eric, a BAME role model, and why diversity is so important to RBS.