Rare banknotes auctioned for Diamond Jubilee Trust
RBS auctions rare and commemorative notes for The Queen Elizabeth Diamond Jubilee Trust.
The Royal Bank of Scotland (RBS) is auctioning a number of its rare bank notes, including its hugely popular £10 Diamond Jubilee commemorative note, to raise funds for The Queen Elizabeth Diamond Jubilee Trust.
The £10 commemorative notes are expected to attract high bids from collectors due to their unique 'TQDJ' prefix and low serial numbers, as are one-of-a-kind sets of the £10 commemorative note with prefixes that relate to RBS' charity partners such as Prince's Scottish Youth Business Trust (PSYBT), Oxfam, National Museum of Scotland, Scottish Rugby Union, Scottish Golf Union and the STV's Children's appeal.
RBS first launched its £10 commemorative note in May this year to mark the Queen's Diamond Jubilee. The note has been one of the most popular commemorative notes in RBS' history, with collectors buying from as far as Hong Kong, Australia and the USA.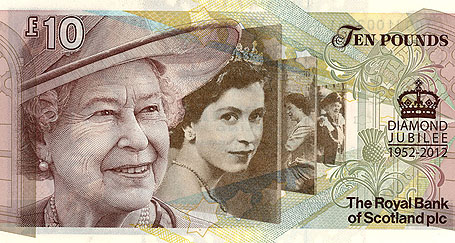 A selection of the £10 commemorative notes will be featured in the biggest note auction of the year on Thursday 13 December, run by Spink & Son. RBS has donated sets of all its commemorative notes from its collection, as well as a range of other rare notes, to the auction which are estimated to raise around, at even the lowest estimate, £10,000 for The Queen Elizabeth Diamond Jubilee Trust.
Other notes of interest include:
National Commercial Bank of Scotland
The lot expected to raise the most money in RBS' note collection is a set of two National Commercial Bank of Scotland £100 notes, which are estimated to raise up to £900. On 16 September 1959, the Commercial Bank of Scotland Ltd merged with the National Bank of Scotland (it then merged with RBS in 1969). This is the only date for National Commercial Bank of Scotland £100 notes, and the opportunity to buy two with consecutive serial numbers is very rare. Also, pre-1980 £100 notes are difficult to obtain as £100 was worth a lot more so fewer notes were printed.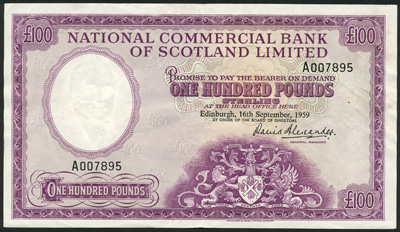 £1 notes
A group of 22 £1 RBS notes from 1951 to 1964 will also attract attention from collectors. It's unusual to have a complete set from a 14 year period and as all the notes are in good condition, they are expected to reach almost £200.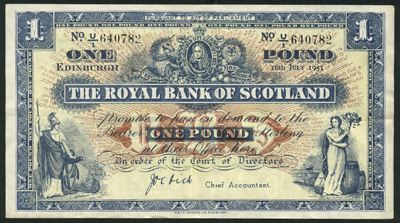 Mismatching serial numbers
There is a set of three RBS £5 notes which will be of special interest to some collectors and are expected to raise at least £150 in the auction. All three notes have mismatching serial numbers and are therefore classed as error notes. It is unusual to get errors on Scottish notes and to have three notes with consecutive mis-matching serial numbers on the right hand side is extremely rare.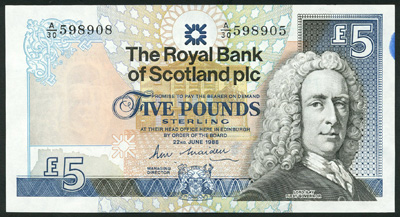 RBS decided to donate the auction money to The Queen Elizabeth Diamond Jubilee Trust because of its royal heritage.
---
---
"There has been overwhelming interest in the RBS notes in the run up to the auction, so we're expecting them to raise lots of money for this good cause."
Barnaby Faull, Director of Banknotes at Spink
---
---
"RBS was founded by royal charter in 1727 and has a long-standing connection with royalty. We have a tradition of issuing notes to commemorate royal celebrations so we're delighted that we were able to donate a number of our commemorative and rare notes to the Queen Elizabeth Diamond Jubilee Trust."
Philip Hampton, RBS Chairman
---
---
"I am delighted that RBS is donating the proceeds of this auction of rare banknotes to The Queen Elizabeth Diamond Jubilee Trust. It is an enormously generous gesture, and very much appreciated. The Trust has been set up to pay tribute to Her Majesty The Queen and her sixty years of dedication to the Commonwealth. We intend to use the funds we raise primarily to remove the curse of avoidable blindness across the Commonwealth. Many people – who will never know the names of the benefactors – will find their lives revolutionised by the generosity of donors to the Trust. I really am most grateful."
Sir John Major, Chairman of The Queen Elizabeth Diamond Jubilee Trust
We're now NatWest Group
Come and visit us for all our latest news, insights and everything NatWest Group.