Apperley Cricket Club benefits from Sport's biggest makeover
Apperley Cricket Club took part in NatWest CricketForce yesterday - the largest volunteer event in sport, aimed at rejuvenating local cricket clubs across the country.
Simon Williams from NatWest's Gloucester branch joined other volunteers to give the Club a spring clean ahead of the new season, which saw them undertaking jobs including preparing and painting the sightscreen.
This award wining grassroots initiative, in partnership with the England and Wales Cricket Board (ECB), has snowballed in popularity since it began in 2002. In 2011 a record 1,914 clubs and an estimated 87,000 volunteers took part, and the 2012 NatWest CricketForce promises to be just as big – attracting enough volunteers to fill Lord's Cricket Ground three times over.
Commenting on the event, Simon Williams from NatWest, said: "We all worked really hard, but had a lot of fun too and it's great to see what we have achieved for Apperley Cricket Club in such a short space of time. NatWest is committed to being a key part of local communities and, together with the ECB, we recognise the huge contribution volunteers make to cricket. I'm therefore thrilled that my employers see developing grassroots cricket in this way as an important part of our well known involvement in the game."
Brian Leake, Chairman of Apperley Cricket Club, said: "NatWest CricketForce has given us a great opportunity to get some much needed work done to ensure our 2012 season gets off to the best possible start. We would like to thank everyone who gave up their time to come along and help. Events like this make a real difference to us and lead to increased participation and a great sense of community spirit."
Latest news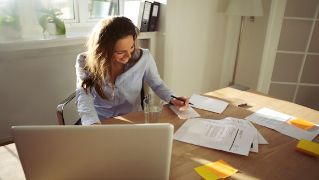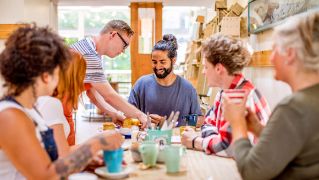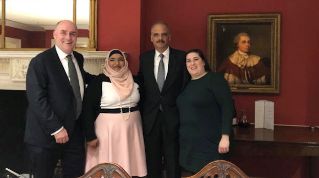 RBS Multicultural Network meets Eric Holder, 82nd US Attorney General
Simon McNamara, RBS Chief Administrative Officer and Executive Sponsor of the RBS Multicultural Network, recently hosted an event in discussion with Eric Holder, the first black US Attorney General. They discussed career, ethnicity, diversity and even a little bit of politics. At the event, Eric Holder shared his wisdom and experience with attendees from the RBS Executive committee and RBS Multicultural Network. Simon McNamara blogs about his experience meeting Eric, a BAME role model, and why diversity is so important to RBS.