Sheffield & Rotherham Joint Stock Banking Co Ltd

---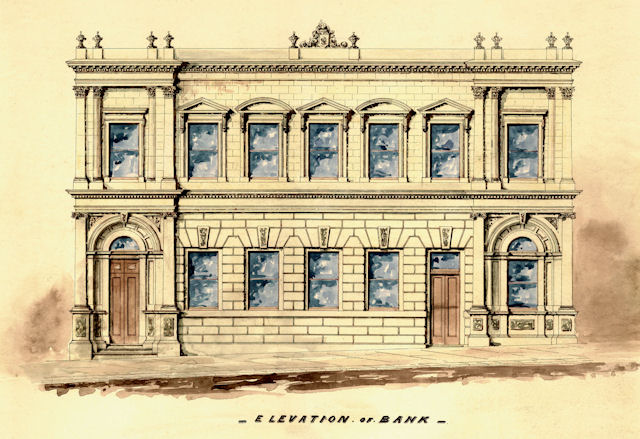 Image: architect's impression of the new Sheffield premises of Sheffield & Rotherham Bank, c.1851 © RBS 2018
Sheffield & Rotherham Joint Stock Banking Co Ltd (1792-1907) was a past constituent of The Royal Bank of Scotland.
Brief history
Walkers, Eyre & Stanley was founded in 1792 as a banking partnership dominated by a family of local ironfounders. From the outset the bank operated offices in both Sheffield and Rotherham and was also known as Sheffield & Rotherham Bank. It pursued a prudent and conservative policy, ploughing back profits, investing its capital in government stock and carefully controlling its private note issues. In 1829 it was renamed Walkers & Stanley and in 1836 the business was sold for £27,000 to a new joint-stock company, Sheffield & Rotherham Joint Stock Banking Co, which was established with seven directors, and Barclay, Bevan & Co (est. 1690), bankers of City of London, as their London agents. The bank grew rapidly, with a paid-up capital of £112,857 by 1847, opening branches in Bakewell (1837), Buxton, Cavendish Circus (1856), Dronfield (1873), Matlock Bridge (1877), Baslow (1892), Darley Dale (1893), Higher Buxton (1899), Parkgate (1899), Attercliffe (1902) and Winster (1904).
The business was not without problems, however, with major accounting deficiencies being discovered during the 1840s and bad debts soaring during the local commercial depression of the late 1870s. The bank issued notes from 1836 until 1907, and at the start of 1860 had £51,000 in circulation. In 1880 the business adopted limited liability, but it was clear that such a small provincial bank could not remain viable for much longer. In 1907, with a paid-up capital of £256,000, the bank was acquired by Williams Deacon's Bank Ltd of London and Manchester, which had a strong network of branches in the Manchester area and was looking to expand into South Yorkshire and North Derbyshire. The bank did not retain its separate identity after the acquisition, which was carried out by means of a transfer of shares, although its former directors continued to meet as a Sheffield Advisory Board for several years.
Branches: The bank opened twelve branches and sub-branches between 1792 and 1907, located in South Yorkshire and North Derbyshire. In 1907 twelve branches were operating.
Published histories
Sheffield & Rotherham Bank: A banking bicentenary, 1792-1992 (Edinburgh: privately published by the Royal Bank of Scotland, 1992)
Williams Deacon's, 1771-1970 (Manchester: privately published by Williams & Glyn's Bank Ltd, 1971)
Summary of our archive holdings
Our archival records of Sheffield & Rotherham Joint Stock Banking Co have the reference code SR.
For help understanding words used here, check our glossary of banking record types (PDF 24KB).
Corporate records
partnership agreements 1829-35
articles of agreement 1836
directors' meetings minute books: 1836-1907, rough 1846-8
deeds of settlement 1836, 1837, 1863
general meetings minute book 1837-1906
general meetings: resolutions re shares 1839, proceedings 1842, 1847, notices and proxy forms 1881, 1894, circulars 1894, 1899-1904
share transfer books 1861-1907
correspondence re shares 1862-1900
rules and regulation for the bank 1863-81
share certificates books 1863-1880
register of proprietors 1863-99
manager's memorandum books 1863-1907
managers' meetings minute books 1871-1907
certificates of incorporation 1874, 1880
share transfer certificate counterfoil book 1880-1900
circulars to shareholders 1880, 1900, 1903
letterbook re shareholders 1881-9
register of dividends 1889-95
shareholders' addresses book 1890-1905
shareholder annual returns 1890-1906
receipts and papers re shares 1893-6, 1900-7
copy certificate of registration 1896
correspondence re shareholder changes of address 1896
share allotment book 1900
notices of share transfers 1900-1
cancelled share certificates 1900-1
register of directors 1901-4
authorities from shareholders re brokers 1903-6
merger papers, Williams Deacon's Bank 1906-7
list of share certificates 1907
advisory board minute book 1909-45
Financial records
cash book 1817-53
bills of exchange 1826-37
private ledgers 1828-1907
annual balance sheets and profit and loss accounts 1836-48
annual report and accounts 1836-1907
annual accounts: summaries 1836-1907, working papers 1857-8, 1870-1906
old balances register 1841-1907
papers re income tax returns 1846-7, 1902-7
auditor's papers: annual accounts 1857-8, 1870-1906, notes and reports 1880-1906, record of securities book 1893-4, notebook 1898
letterbooks re shareholdings 1881-9.
rough profit and loss accounts 1890-1907
papers re increasing the bank's capital 1900
balance sheets analysis ledger 1902-7
Legal records
correspondence from bank's solicitors 1838-53, 1900
notice from solicitors re mortgages 1845
Customer records
customer account ledgers 1792-1804
cheque book, Manchester & Salford Bank 1881-2
customer correspondence 1879-80
memorandum re permission to overdraw an account 1820
papers re stoppage of Overend, Gurney & Co 1866, 1868
Head office branch records
memoranda book re Bakewell and Buxton branches 1874-85
purchase receipts re Dronfield branch 1899
Staff records
staff registers and salary books 1818-(1915)
salaries account ledgers 1861-(1915)
photograph album, premises and staff 1890-4
Property records
title deeds, Church Street 1578-1836, Graystones, Sheffield 1786-1856
correspondence, estimates and reports re new Church Street building 1865-6
papers re branch premises 1865-1907
plans, drawings and specifications for the Sheffield office and other properties 1825-65
drawing of proposed new Sheffield branch c.1860s
fire insurance policies 1868-80
photograph albums, premises and staff c.1890-4
Note issue records
banknotes 1814, 1837, 1899
banker's licences 1817, 1875-1906
note issue books 1836-1907
draft and note circulation books 1845-1907
banker's bond 1873
Other
watercolour of Ebenezer Hall, chairman, late 19th cent
Branch records