Prescott's Bank Ltd

---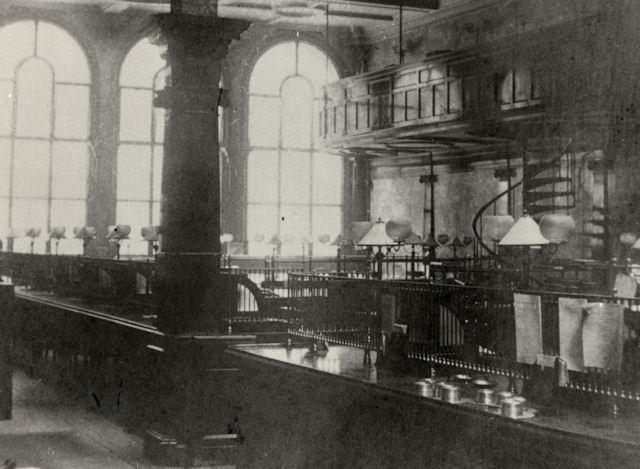 Image: the banking hall of the London head office of Prescott, Dimsdale, Cave, Tugwell & Co in about 1900 © RBS 2018
Prescott's Bank Ltd (1766-1903), established in London, was a past constituent of NatWest.
Brief history
This private bank was established in Threadneedle Street, City of London, in 1766 as Prescott, Grote, Culverden & Hollingsworth. In 1891 the bank merged with Dimsdale, Fowler, Barnard & Dimsdales of London, Miles, Cave, Baillie & Co of Bristol and Tugwell, Brymer, Clutterbuck & Co of Bath to become a joint stock bank with limited liability – Prescott, Dimsdale, Cave, Tugwell & Co Ltd. This bank subsequently acquired George Moger & Sons of Bath in 1891; Harwood & Co of Thornbury in 1891; Deane & Co of Winchester in 1891; Bulpett & Hall of Winchester in 1892; Hilton, Rigden & Rigden of Faversham in 1892; Thomas Butcher & Sons of Tring in 1900; and Sanders, Snow & Co of Exeter in 1902. The bank was renamed Prescott's Bank Ltd in 1903. In 1903 the bank amalgamated with Union of London & Smiths Bank Ltd.
Branches: In 1903 23 branches and 3 sub-branches were operating.
Detailed list of name changes
Prescott, Grote, Culverden & Hollingsworth from 1766
Prescott, Grote & Hollingsworth in 1799
Prescott, Grote & Prescott from 1801
Prescott, Grote, Ames, Baillie & Grote from 1838
Prescott, Grote, Ames, Cave & Grote from 1839
Prescott, Grote, Cave & Cave from 1848
Prescott, Grote & Co from 1848
Prescott, Dimsdale, Cave, Tugwell & Co Ltd 1891-1903
Prescott's Bank Ltd 1903
Published histories
FG Hilton Price, A Handbook of London Bankers (London: Chatto & Windus, 1876)
'Prescott's Bank', National Provincial Bank Review (Privately published by National Provincial Bank, 1966-8)
Summary of our archive holdings
Our archival records of Prescott's Bank Ltd have the reference code PRE.
For help understanding words used here, check our glossary of banking record types (PDF 24KB).
Partnership records
partners' private business and family papers 1687-[1915]
partnership agreements 1776-1890
partner's expenses book 1779-85
partners' account pass books 1790-1838
partners' correspondence 1806-1932
partner's letterbook 1815-36
guarantee re bills presented 1833
partners' meeting minute books 1839-90
Corporate records
memorandum and articles of association 1890
certificate of incorporation 1890
share transfer forms 1890
amalgamation papers 1890-1904
secretary's information book 1891
directors' meeting agenda books 1891-1903
directors' meeting minute books 1891-1903
committee meeting minute books 1891-1904
Financial records
balance book 1780-1864
promissory note 1791
bill of exchange 1791, 1832, n.d.
bills of lading re shipped sovereigns 1834
half-yearly expenditure sheets 1871-90
balance sheets: 1890-1903, half-yearly 1871
investment and premises register 1891-1903
list of investments 1903
Legal records
papers re legal action against Bank of England 1892
Customer records
securities for advances 1668-1909
customer account ledger 1766
safe custody papers 1767-75
bills of exchange 1778-1800
cheques 1794-1904
banker's draft 1808, n.d.
customers' stock register 1818-31
safe custody orders book 1824-92
box and plate registers 1824-93
papers re role as London agent 1834-62
register of standing orders 1838-44
securities register 1852-92
bad debts register 1860-(1915)
advances registers 1876-1911
banker's receipt 1894
cheque book 1890s
various forms n.d.
Head office branch records
branch inspection notebooks 1891-1903
overdrawn accounts notebook 1894
Staff records
staff fidelity bonds 1741-1865
staff salary books 1807-91
staff petitions 1849-74, 1892
salary lists 1859-1901
service agreements 1891
directors' photograph 1899
employment application 1901
Property records
receipts for rent and trade supplies 1764-1857
receipt re premises use 1766
property agreements 1777-1820
papers re building repairs 1858-99
premises valuation bill 1891
premises photographs 1892
premises auction particulars 1893
premises valuation 1903
Marketing records
Branch records
Other records
papers re London Bankers' Clearing House 1829-1958
Summary of archive holdings elsewhere