Direct Line

---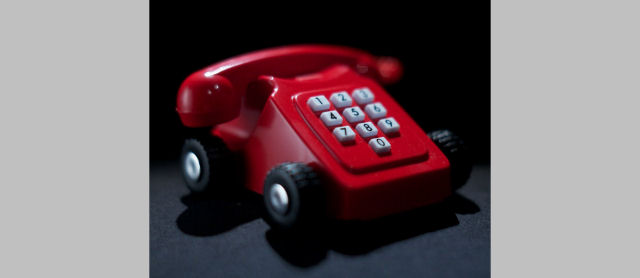 Image: toy Direct Line telephone on wheels, 1990s © RBS 2018
Direct Line (1984-date), established in Croydon, was formerly part of The Royal Bank of Scotland Group.
Brief history
This insurance company was established in 1984 and sold its first motor insurance policy in 1985. The business, the brainchild of Peter Wood, was formed around the idea that motor insurance could be underwritten profitably using computer-based technology, and sold direct to the public via the telephone. The Royal Bank of Scotland Group, keen to become involved in new areas of financial services, provided the initial funding of £20m.
Direct Line grew rapidly, driven by advertising in the national press and marketing to customers of the Royal Bank. It was the first insurer to open its offices in the evenings and on Saturdays, and the first to offer a 24-hour helpline. In 1988 Direct Line launched home insurance, based on the same model as its original motor product, and sold 80,000 home policies in the first year.
Direct Line opened a new, purpose-built head office in Croydon in 1991 and regional offices were established in Glasgow in 1989, Manchester in 1990, Birmingham in 1992, Bristol in 1994 and Leeds in 1995. This rapid growth was fuelled by intensive advertising and marketing campaigns. In 1990 the red telephone with wheels brand mark was launched.
In 1993 the first non-insurance product, the Direct Line Personal Loan, was launched by Direct Line Financial Services, an operational umbrella for Direct Line's non-general insurance products. It went on to offer mortgages from 1994, life assurance (under the name Direct Line Life) from 1995, savings accounts and a PEP unit trust from 1996 and pensions from 1998. During this time, further Direct Line insurance products were launched: travel in 1996, pet in 1997 and breakdown insurance (under the name Direct Line Breakdown) from 1998. From 1995 a Spanish joint-venture motor insurance company, Linea Directa, was also bringing the same advantages to customers in Spain that Direct Line had introduced in the UK ten years earlier.
In 1999 directline.com was launched and within 12 months had achieved over 100,000 online sales. Later that year Direct Line acquired Green Flag Group, which now operates as the business-to-business arm of Direct Line Insurance. In 2000, Direct Line launched jamjar.com, an online motoring site selling new and used cars.
In 2001 Direct Line launched the UK's first online claims registration and tracking facility for its motor insurance customers and acquired the Italian and German motor insurance operation of US insurance company Allstate. This combined with the purchase of Royal & Sun Alliance's direct motor operation in Italy in 2002, made Direct Line Italy's largest direct motor insurer. Home Response 24 emergency insurance was launched in 2003.
In 2003 Direct Line became part of RBS Insurance, a subsidiary of RBS Group, which in 2012 was renamed Direct Line Group. In 2012 RBS Group began a phased disposal of its ownership of Direct Line Group, which was completed in 2014, in line with a European Commission state aid agreement.
Since then, Direct Line has been a completely separate company from RBS.