Thomas Barnard & Co

---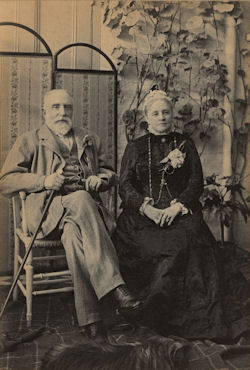 Thomas Barnard, principal partner of Barnard & Co, with his wife, 1909 © RBS 2016
Thomas Barnard & Co (1799-1915), established in Bedford, was a past constituent of NatWest.
Brief history
This private bank was established in 1799 as Barnard & Co by Joseph Barnard (1745-1825), a Bedford coal merchant. It was also known as Bedford Bank. The bank's partnership capital at foundation was about £10,000, rising to £30,000 in 1813 and £80,000 in 1873.
By 1803 the bank was trading as Jos Barnard, J Wing & John Perkins, after John Wing, a gentleman, and John Perkins, a Huntingdon banker, joined the partnership. Barnard remained managing partner.
In 1809-1810 there was a run on the bank and in 1811 a cashier at the Bank of England embezzled over £15,600 of the firm's investment funds, almost causing the bank to fail. Joseph Barnard died in 1825. His son Thomas was admitted to the partnership by 1826.
Thomas's sons, Talbot and Thomas, joined the partnership in 1848 and 1851, and by 1850 the family's parallel coal business had been given up.
In 1915, when the bank was known as Thomas Barnard & Co, it was acquired by Parr's Bank.
Detailed list of partnership changes
Joseph Barnard from 1799
Joseph Barnard, J Wing & John Perkins by 1803
Joseph & Thomas Barnard by 1810
Joseph & Thomas Barnard & Francis Green by 1812
Barnard & Green by 1821
Thomas Barnard 1826-1831
Thomas Barnard & Co from 1846
Talbot and Thomas Barnard & Thomas Twining Wing from 1857
Thomas Barnard & Frederick Stanley Carpenter from 1873
Thomas Barnard, Frederick Carpenter & Edward Owen Carpenter by 1886
Thomas Barnard, Edward Owen Carpenter & T H Barnard by 1892
Edward Owen Carpenter & TH Barnard from 1909
Also known as Bedford Bank.
Published histories
LS Pressnell, 'Joseph Barnard. Westminster's Predecessor in Bedford', Westminster Bank Review, February 1962
Summary of our archive holdings
Our archival records of Thomas Barnard & Co have the reference code BAR.
For help understanding words used here, check our glossary of banking record types (PDF 24KB).
cheque books 1850s, 1913
customer account passbook 1866-1873
banknotes 1882-1914
photograph, Thomas Barnard 1909
profit and loss accounts and balance sheets 1909-1915
Summary of archive holdings elsewhere
Bedfordshire Archives and Record Service: Accounts 1801-1890; partnership agreements and related papers 1801-1912; balance sheets 1801-1914; T Barnard's passbook and accounts 1806-1853; correspondence: swindle 1809-1815, run on bank 1809-1810, note issue dispute 1798-1833, indemnifications for lost banknotes 1813-1881; papers re staff including fidelity bonds 1823-1910; security register 1841-1883; papers: public appointments of T Barnard 1863-1901, partners' income tax 1859-1916, sale of business 1902-1915; cash book, account with London agents 1866-1876; safe custody registers 1869-1883; partners' ledgers 1872-1895; profit and loss statements 1872-1915; papers re securities 1884-1904 (Ref: BD)